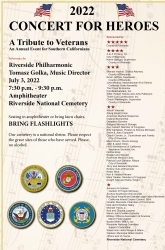 The Riverside National Cemetery (RNC) in collaboration with the Riverside National Cemetery Support Committee to host the 2022 Concert for Heroes on Sunday, July 3 at 7:30 p.m. at the cemetery's amphitheater. This year's event will feature music provided by the Riverside Philharmonic under the musical direction of Totnasz Golka, followed by fireworks and a flyover. This is the first concert in more than two years, and the cemetery is expecting between 7,000 and 10,000 visitors. The concert is also the only one at the Department of Veterans Affairs of 152 national cemeteries.
Riverside National Cemetery was established in 1979 and is home to five Medal of Honor Recipients. It is the largest and busiest cemetery in the VA system. Each year, RNC staff support Veterans and their families with the interment of nearly 10,000 heroes. In the coming months, the Gold Star Family Monument will be dedicated on the cemetery grounds near the amphitheater. Date and time to be announced later.
With this in mind, we welcome you and your family to attend the event on Sunday, July 3, 2022, 7:30 pm, Riverside National Cemetery. Our RNC Acting Executive Director Amelia "Amee" Roberson, James Gore, President; and Michael Cano, Vice Chair of Riverside National Cemetery Support Committee will be available to address any questions you may have regarding the Cemetery and the status of the American Indian Memorial on the day of the event from 3 to 6:30 p.m. at Riverside National Cemetery amphitheater.