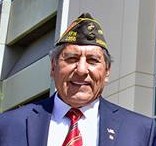 Veterans of Foreign Wars Menifee VFW Post 1956 P.O. Box 321 Menifee, CA 92586
EIN: 95-3319357- 501(c) (19) Veteran Non-Profit: C2326557
COMMANDER'S CORNER
December 1, 2023
Greetings Comrades:
The holidays have arrived and would like to wish you all the best the Holiday Season has to offer. Many of our post members participated in various VFW Programs and Post events in the fourth quarter 2023. If you are one of them, I extend a great thank you for your relentless volunteer service you provided to carry out the VFW mission to our members, other veterans, our youth, and the community.
Various Post administrative changes occurred this year and made our leadership more transparent with our officer responsibilities. We established a new webmaster to update our Post website and participated in various VFW Programs and events.
Fourth Quarter Post Activities:
1) We joined forces with our Post Auxiliary in September & October 2023, to distributed and collect VFW Program applications from local schools and First Responders.
2) November 4, 2023, attended Amber Waves of Grain and recruited two members
3) On November 4 & 5, join the Boys Scouts of America with Buddy Poppy drives
4) November 11, 2023, partnered with the city of Menifee with Veterans Day and honored five Korean Veterans with the Korean Peace Medal.
5) November 11, 2023, delivered the second most successful Annual Veterans Ball
6) November 18, 2023, distributed 200 Thanksgiving turkeys to various veterans.
As you can see, we had a gracious 4th quarter. But going forward, I request your undivided attention to be involved by attending our general meetings to make your membership vote count. We meet 2nd Saturday of each month, 10:00 a.m., at Mt. San Jacinto College, (MSJC), Building 900, Room 927; 28237 La Piedra Rd. Menifee, CA 92584.